Curls, curls, curls.
Bouncy, flouncy and extravagant, curls are beauteous in all forms. But which celebrities celebrate their curls best? Whether you are a curly haired native or a straight haired lady experimenting with an alternative style, here are some of our favorite curls!
Leona Lewis
With her sky blue eyes, candy cane pink lips and crazy curls, Leona looks like a lion. Curls can lend a softness to the face and even emphasise volume. We can't imagine Leona any other way! The mix of blonde and brunette tones also creates a warmth that really suits Leona's skin color and makes all of her shades pop beautifully! Curls can bring out highlights in a very different way to straightened styles so if you think you're tired of your color, give curls a go and see if you change your mind.
Shakira
Shakira's wild tresses represent perfectly her sultry, happy go lucky attitude. Her hips don't lie and neither does her hair. Shakira's curls represent her personality; a little wild, a little primal and a helluva lot of fun. Whilst straight hair can look very 'done', it's okay for curls to be a little messy and unkempt. The takeaway hair is that bigger hair can mean bigger fun. It's a great way to express a little more of who you are.
Lorde
Lorde shows that curls can be interesting, mysterious and ethereal. Dark curls lend gravity to any look and add a sense of gravitas and mystique that can be intoxicating. This look really flaunts Lorde's milky complexion and the unique dimensions of her face. We feel straighter locks would detract from her appeal in some way. Maybe she'd look too mainstream? And there's definitely something rebellious and unconventional about tousled hair.
Debra Messing
Debra's curls look playful and frivolous which is just what they should do! There is something so effortlessly naughty and girlish about curls and they don't tend to require as much maintenance! Debra's low key look gives a slightly undone quality to her professional look which makes her appear warmer.
Sarah Jessica Parker
Sex and the City's favorite fashionista, crazy Carrie is perfectly embodied by curls. Curls are solidified in mainstream culture as representing a cookie, non cookie cutter personality. No matter how generic anything about you may be, curls will un-do all of that.
Nicole Kidman
Pulling off shorter curls can be problematic. There is the risk of looking like a poofy poodle or a big ball of candyfloss. Nicole makes this look elegant and chic. It CAN be done! Don't fear curls if your hair is shorter. Just add dimension to your face with makeup and killer accessories. Curls can definitely dominate and swallow up certain faces so approach this style with a sense of fun and play and it can work well.
Taylor Swift
Taylor's former curls looked sweet and girlish so there is a way to wear them that looks more 'innocent' rather than 'siren.' Coupled with her red lip, Taylor adds a hint of coquettishness but the overall appeal is very vanilla and youthful.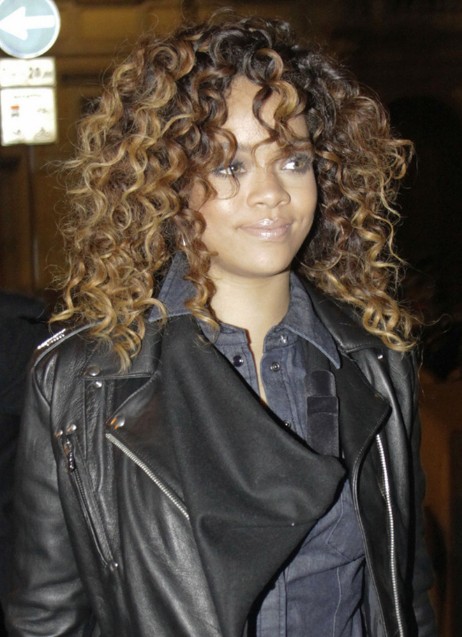 Rihanna
A big personality can get away with big hair. Rihanna's curls show off her big attitude and her super star status. The key? Don't be scared to go big! You can always temper curls down but kindling them and helping them flourish can create some dramatic and very memorable styles.
Nicki Minaj
If you thought that curls only came in one size fits all, you'd be wrong as demonstrated here by rapper Nicki Minaj. Dark roots, blonde bottoms and a very flouncy French style...this look might not work on everyone but it suits Minaj and shows just how versatile curls can be.