Celebrities. With all their money, they certainly can't buy sense. As much as we look to celebrities for inspiration, we also turn to them to avoid their mistakes, some of which they wear proudly on top of their heads! Here are a few celebrities who really, badly, desperately got it wrong…and why (so that you don't make the same blunder!)
Obvious Extensions: Britney Spears
Extensions are supposed to look seamless, flowing organically with the texture and color of your own hair. The result is supposed to be authentic. Anything too showy or inauthentic looks glaringly fake. In this case…you really can't get any more glaringly obvious. We hate to kick Britney when she's already been down especially as we have a soft spot for the princess of Pop but really, what was she thinking?
Blonde and Brassy: Jennifer Love Hewitt
Much like a red lip, there's a shade of blonde to suit everyone but when you pick the wrong shade for your coloring: disaster. This is why blonde is NEVER a DIY job. Jen's hair is two different shades of blonde (almost white blonde at the top and ginger toned at the bottom) suggesting she dyed over two different colors of hair to begin with. The result is...bad and INCREDIBLY unflattering. Words to the wise: choose your blonde CAREFULLY! It doesn't always equal bombshell.
Bad Bangs: Beyoncé
Beehive, don't hurt us! We know Bey is a Queen but bangs aren't always bodacious. Too short bangs is certainly a quirky look that very few can pull off. In our opinion, Bey makes it look better than most but it's still not great. It looks like her hair is crawling away from her head. This look didn't last long...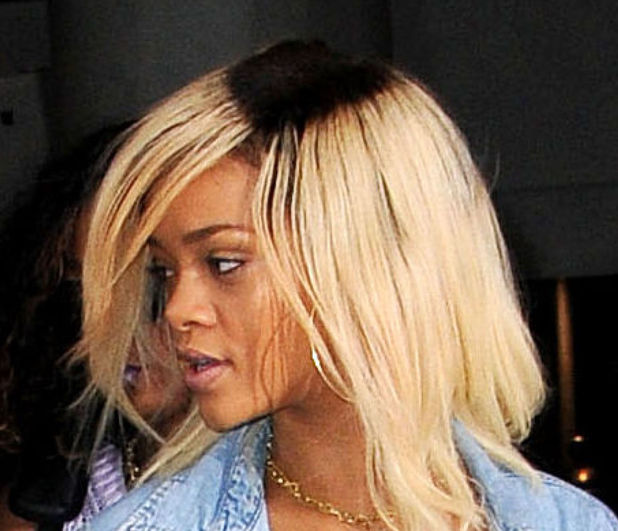 Skunk Hair: Rihanna
When it comes to blending black and blonde, a little caution is advised. It can be done, but this is not the way. Repeat: this is not the way. It looks like someone cracked a dark egg of evil over Rihanna's blonde locks.
Too Long: Lindsay Lohan
If you let your hair grow too long, you run the risk of looking like Cousin It. Don't let hair get too damaged or it will drain you and drag you down. Long hair looks youthful but once it gets past a certain point, it's hard to find your face underneath all that hair.
Too Short: Nicole Richie
Nicole Richie is tiny. Absolutely so. Short hair should suit her, but yet this leaves a lot to be desired. The style here is flapper and it's a style that doesn't feel quite right on Nicole. Perhaps a little punkier, darker, a bolder lip? Maybe we could work with that!
Dodgy Ombre: Drew Barrymore
Drew absolutely comes to life as a blonde so this half/half ombre she sports is really not her best look ever. We wish Drew would return to her bright blonde looks. Plus...this hair just looks tired and messy. Less bed head and more dread head.
What's your worst fashion faux pas?