Short hair has its plus points. It can completely rejuvenate the face returning to it a vibrancy and edginess that is hard to beat. Short locks speak of the non-conformist, the rebel, the pixie and the girl too busy being bad to have time to spend on lavish hair rituals. Many of us 'mere mortals' turn to the celeb world to see how they are styling their shorter tresses. Many a starlet has opted for short hair and for various reasons. Sometimes it's for a role, other times it's to eliminate excess damage from over-styling and dying and sometimes it's for an instant image overhaul. Here are celebs who suit short.
Emma Watson
With her dainty, exquisitely feminine and fairy like features, the pixie cut suits Emma superbly. Famed for her 'bushy' Hermione hair, Emma revamped her image when she cut her long locks short. She immediately looked fresher, chic and sophisticated which helped her shed her child star image and enter a more adult and mature domain of movie making.
Jennifer Lawrence
Jennifer is known far and wide for her quirky, offbeat and eccentric personality. Larger than life and fabulously fun, Jennifer, at the height of her career, did a 360 and cut off her beautiful long hair (quite a daring move for a leading lady!) and she's been re-writing the rules left, right and centre ever since. Jen's cavalier attitude to her tresses embraces a sense of adventure and attitude.
Carey Mulligan
Carey is perhaps one of our favorite shorter haired starlets. Doe eyed and with gentle features, the sweeping pixie do gives a little rebellious edginess to her otherwise conventional look helping Carey stand out in a saturated fame market. Carey shows that short hair can be showstoppingly feminine and rather than being 'butch' as short hair can oft be portrayed, it can be a wonderfully girly look.
Karlie Kloss
Karlie Kloss is a perfect example of how a shorter cut can totally revamp the face. Karlie, a showstopper at the best of times, looks almost feline with shorter hair which draws gravity to her eyes and model features. Such delicate features can sometimes be dwarfed by long hair…lost at sea in all those locks! This shorter style makes her features the main feature (pardon the pun).
Miranda Kerr
Miranda, notoriously known for her medium-length bronde locks, recently opted for a lob (a lengthy bob). Miranda's cherubic, doll-like features are given a little gravitas with shorter hair. She looks a little more mature and we almost take her a little more seriously!
Halle Berry
Few stars make shorter hair their staple but Halle is a celeb who oozes sultry sensuality (and short hair only adds to the appeal). The general rule of thumb is that you either have to have absolutely striking features, or, at the opposite end of the spectrum, pretty and refined pixie features, to successfully adapt to shorter hair. Halle who is diminutive and dainty boosts her stature with this do.
Milla Jovovitch
You might remember Milla from the 'Blue Lagoon' sequel. Back then, her hair was long, brown and wavy giving her an exotic, otherworldly appeal. As Milla grew up, she meant business, particularly when she signed up for the 'Resident Evil' franchise where she was required to be a gun-toting bad ass. Milla would like stunning whatever her style but the short hair definitely cements her as an action star.
Katy Perry
Perry tends to make herself look cartoonish. It's part of her pop icon personality. As Katie likes everything to be bigger and better, including her makeup, the short hair really helps emphasise her facial features. A few years back, Perry made a departure from her trademark raven black locks and went blonde – and short! It's still one of our favorite styles of hers!
Pink
Pink is a star who has eternally had short hair. We can't picture her any other way. Pink's rock chick image is boosted with shorter hair. She embraces the masculine but still looks rockingly feminine. Pink is the perfect example of using your hair to showcase your personality and character. A true non-confirmist and a rebel at heart, Pink's hair is her all the way. We also like that Pink has been consistent with her look in an era where trends change on a weekly basis.
Charlize Theron
Amazonian and goldenly gorgeous, Charlize shows that you need the right features to go shorter than short. With longer hair, Charlize remains a beauty and conventionally feminine. Shorter hair radicalises her look and lends stature, gravitas and even a suitable layer of intimidation to her splendour. Short hair on tall ladies can definitely work well.
Miley Cyrus
It's common for Disney stars to want to shed that squeaky clean image. Miley, always with long locks, went to an extreme. Cutting and dying her hair and styling in an assortment of gravity-defying ways. She hasn't gone back. Miley seems more at home with her new look which certainly suits her newfound rebellious streak and sense of exploration. Cutting hair is often about moving yourself from an old box and playing around with who you are. The cutting of hair can represent shedding old experiences, behaviours or relationships and Miley has certainly changed in many ways! The hair style is only the tip of the iceburg!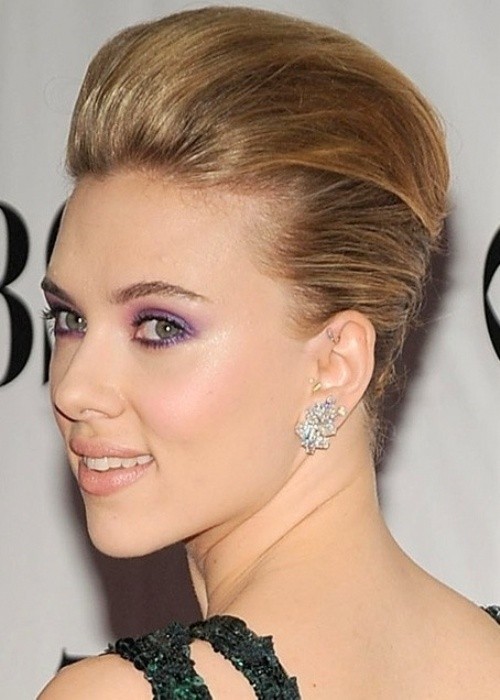 Scarlett Johansson
It's always brave when a beautiful woman makes a bold choice…and that's what makes it so exciting. With her gorgeous blonde hair Scarlett was reminiscent of an old school Hollywood siren and was frequently compared to Marilyn Monroe. When she went for the chop, Scarlett showed that she's quite courageous and not exempt from mixing things up. She also showed that she doesn't take herself or her image too seriously, which only seems to make her sexier.
So have you got the short hair bug? And which look do you love best?