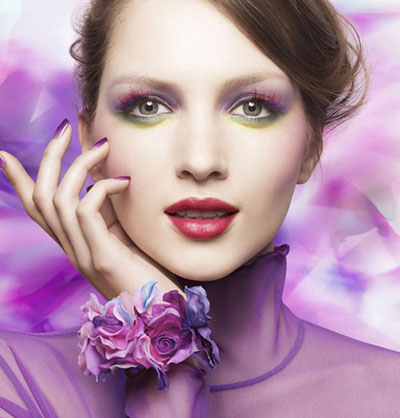 There is perhaps no situation that requires 'good hair' more so than a first date. With beautiful hair being so closely correlated with beauty, femininity and attraction, perfecting that first date hair is hugely important.
Men supposedly find three elements of a woman immediately appealing…the smile, the eyes and the HAIR. If you can get these three components working harmoniously, then you can snag the man of your dreams.
Here are several styles that we recommend to get your date drooling.
Mermaid waves are a gorgeous look because they are exotic, feminine, floaty, girly and wild all in one. If your hair leans towards waves, kinks or curls that the mermaid wave look is perfectly in keeping with your own texture. Whereas straightening hair can actually work against the grain so to speak, waves tend to hold better in hair that already has body, oomph and volume.
There are many ways to achieve a mermaid wave. You can use a curling wand, the scrunch technique (add mousse and scrunch!) or tie your hair into braids, leave overnight and release for instant body. The key with waves is to keep them in so make sure to use a generous amount of holding spray.
Men have rated waves as their favorite look so it is well worth stepping out on a first date with this style in place.
Straight hair is classically popular and suits pretty much every woman. It's very effective at bringing out the colors that embolden your hair and is immensely flattering. Prim, proper and straight laced, straight hair holds a certain accessible glamor and is many peoples go to style.
Use straighteners for poker straight locks or use heat and a boar bristle brush to coax a softer, straightened look from your tresses. If you want to add a little customisation to make things pop, add a couple of braids or plaits. If you have a fringe, this always adds character and boldness to any look. Add serum to keep a shiny sheen.
A bun might not seem like it's worthy of a first date, but you'd be mistaken. If you're rushing from work, then a bun is ideal. It screams professionalism and sophistication. It's also very easy to throw together and sometimes, that's just what's needed. Use holding gel to fix your bun in place and secure tightly. With a bun, your face is obviously on display so allow your makeup and accessories to speak for you. A bun also helps you flaunt those earrings and the graceful nape of the neck.
Most of us wear our hair up most of the time. It's practical and keeps us cool. It can also look amazing. Even brides are boasting up dos as a flattering and real-world look. Perfecting the up do is a vital part of any woman's repertoire. There are so many styles that it's a good idea to have a look to get a good idea of what is possible. Add accessories to add mystique and intrigue.
If you're unsure whether to go up or down, a halfway look is best. Let hair flow in waves and grip back a section of hair with a clip or scrunchie. This look creates quite a lot of oomph and a real wow factor and adds instance body, thickness and volume to hair. Adding extensions can make this look even bolder.
Key style words for the perfect first date
Feminine: Waves, accessories and flattering fringes all work.
Girly: Add a jewelled clasp or keep hair pretty and wavy.
Bold: Opt for sleek straight hair especially if your locks are shorter. Out there colors work well here.
Classic: Simple, subtle, understated but hugely effective.
Hairdryer and boar bristle brush
Shimmer spray or serum to add gloss and sheen
Hair extensions to add oomph!
What can first date hair reveal about you?
Personality, glamor, femininity,

flirting

, beauty, sassiness, wildness, boldness…the essence of YOU!